Nest Studio is an award winning eco-friendly, independent art space, based in beautiful Evegate Artisan Village. We also have showroom space at Grace & Folk, in Folkestone High Street and a Frenchic paint concession at Made In Ashford, in Park Mall. 
Home to Artists and small businesses, we are a creative space offering a variety of workshops, arts and craft sessions. 
We run various workshops for all abilities, offering a safe, accessible and inclusive space.
We have been recognised for our passion and commitment to bring creativity to all and we encourage people of any age to develop their skills, build relationships and engage with their community.
Muddy Stilettos Winner 2022: 
Best Art Space



Kent Business Awards Finalist 2022:
Businesswoman Of The Year

Muddy Stilettos Finalist 2021: 
Best Interiors Store

Countryside Alliance Awards Finalist 2023
Rural Enterprise in South East England
We have signed up to the Better Business Act to show our support as a business, in working towards a fairer, greener world.
We want to be proactive in helping social and environmental issues.

We are the only Official Stockists of Frenchic® for Folkestone, Ashford, Smeeth and their surrounding areas.
We have stocked these products for four years and have a wealth of knowledge about application and technique.
We stock Frenchic at 3 locations: Grace Interiors in Folkestone High Street, Made In Ashford in Ashford town centre, and at our own working studio in Smeeth, just off J10a of the M20
You can book a consultation about your projects or to discuss application and techniques using this award-winning brand, with Steph. Availability at the studio at Evegate Artisan Village is on Tuesdays, Wednesdays and Saturdays, or at Grace Interiors in Folkestone High street on Fridays. Alternatively, email us for general advice and support.
If you would like to attend a workshop to learn how to upcycle items to a professional level using Frenchic paints and effects products, then check out our website shop under the 'Workshops' category. We have sessions for all abilities.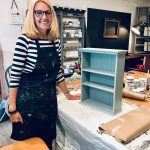 I attended a 1:1 workshop a couple of weeks ago and thoroughly enjoyed the day.
Stephanie was very informative & knowledgeable about techniques, paints, colours etc. I now have a lovely little cabinet in my bathroom & plenty of other projects in the pipeline. 
Just wanted to say thank you again for such a fabulous day. We both thoroughly enjoyed ourselves and love what we created.
It was so lovely to meet you and spend time in your fabulous studio. I really learnt a lot and feel much more confident to revamp more furniture now….thank you so much.
Hopefully see you very soon.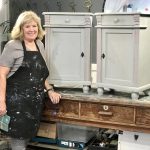 I had an amazing  time with Steph who showed me some great techniques with Frenchic paint and helped to show me the potential to transform some furniture to match my bedroom perfectly!
Friendly, caring and helpful…. I want to do more!